Saturday 25 - Friday 31 August 2018


This will be our third visit because the first 2 times were so awesome! My favourite retreat to date. Join us ...
Awakening Peace Within: Yoga Retreat
While we all 'exist', we know there is more to life. Take some time out to let the stress & busyness of usual life peel off you. Rediscover your true nature allowing your life to bloom into vitality, inspiration and aliveness. This is what the authentic Yoga in Daily Life practice offers.
You will enjoy the sensation of your body relaxing; your face softening as your breath calms and your movements become slower and awareness arrives to the present moment. As you acquire new depth and stillness within your meditations, you will come into the lightness of being, awakening the peace that is already within you.
This retreat offers you daily Yoga in Daily Life classes, guided meditations, yoga nidra, mini workshops, inspiring talks and ample free time to relax or explore within the unique, lush and warm tropical North Queensland, ensuring a balanced, nourishing and enriching experience.
Average daily temperatures at this time of year are 25 degrees!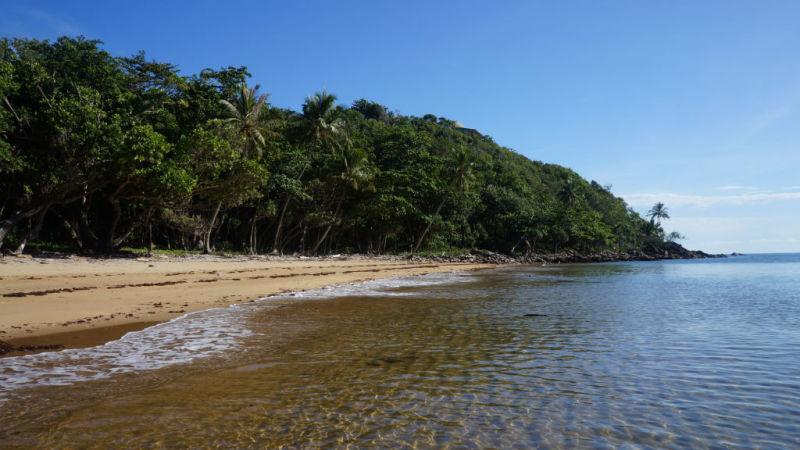 Cost:
Deluxe Cabin - single occupancy $1870 double or twin share $1495pp
Rainforest Hut with alfresco ensuite - single occupancy $1540 double or twin share $1270pp
Rainforest Hut share bathroom - single occupancy $1390 double or twin share $1210pp
Whats included:
6 nights accommodation
3 nourishing and incredibly delicious meals a day
tea, coffee and fruit available 24/7
our complete yoga and meditation programme
This retreat features special guest yogi Swami Madhuram.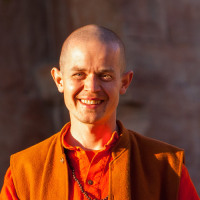 Swami Madhuram has been studying and teaching Yoga & Meditation under the guidance of HH Paramhans Swami Maheshwarananda (Vishwaguruji) for more than 15 years. His interest in what is called "Nada Yoga", the yogic path of sound, has seen him use his musical skills playing Bansuri (Indian bamboo flute) and chants for his own practice and sharing with others.
Imagine this, because it's almost magical ... being in a yoga space surrounded by the tranquility and ambience of the rainforest and inside the teacher is leading the meditation with his Bansuri flute, and chants that heighten the resonance of peace within and around us.
Getting there:
Flights are not included. Book your flight arriving & departing from Cairns.
We will arrange a shuttle bus to pick us up from Cairns domestic airport & take us to the venue. If you wish to use this option arrive in Cairns before 12.25pm. Going home book flights after 12noon. Its around 2 hours from the airport to the venue. The shuttle is an extra cost of approx $50.
Alternately you may wish to hire your own car.
We recommend getting travel insurance.
We are staying at
The Sanctuary at Mission beach is located deep within the rainforest in Far North Queensland, where the rainforest meets the sea. The forest provides a magical place to retreat and to look deeply into the nature around us, as well as our own inner nature. Brooks Beach is a secluded beach, only 10 minutes' walk away, and an amazing place to bask in the beauty of where the forest and the sea come together. The Sanctuary is one of the best places in Australia to see a cassowary in the wild! With this in mind, be aware that by living within nature we are also sharing the forest with its original inhabitants. Insects, birds, and lizards may visit the vicinity of the living quarters. These 'visitors' are not dangerous, and the forest is their home too.
Sanctuary can be found at 72 Holt Rd, Garners Beach, Mission Beach in tropical North Queensland, about 2 hours south of Cairns.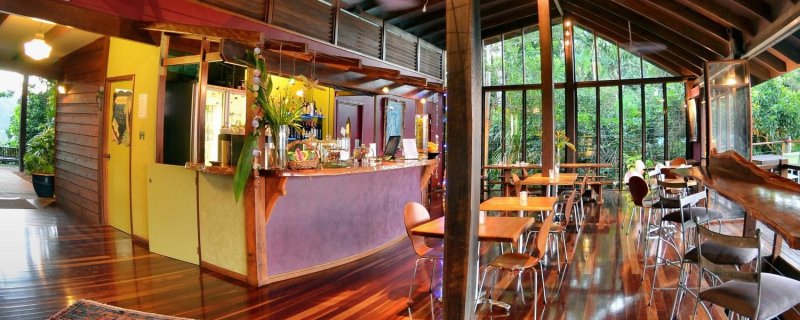 Your room:
you have choice ...
Rainforest Hut
Rainforest Hut with alfresco ensuite
Deluxe Canopy Cabin
Capturing the cool, green light of the rainforest, accommodation is in secluded forest huts nestled in the rainforest canopy. A minimalist design maximises the sights, sounds and smells of the rainforest whilst giving some personal space to those creatures you may prefer not to sleep with.


Accessed by a boardwalk to protect the forest floor, the rainforest huts have no solid walls, instead the timber structure is screened on all four sides with weather proof curtains able to be drawn for privacy and protection from adverse weather.


Each hut has a small verandah, simple furnishings and sleeps one or two in a standard double bed.


Single / Twin / Double
Share Bathroom (10 – 70 metres away)
Fans / Light
Natural Drinking Water
Linen and towels
Powerpoints available for use in communal area
kitchen with tea, coffee & fruit in the communal area

Same as the Rainforest huts with the added elegant and rustic outside ensuites that offer a convenient addition.

A simple deck extends from the hut, while privacy is created by the natural foliage of the forest. Gravity fed with fresh, cold water collected onsite, the ensuites are appointed with a shower, toilet and basin fittings of quality and style.

Single / Twin / Double
Open air /cold water ensuite
Fans / Light
Natural Drinking Water
Linen & towels
Powerpoints available for use in communal area
kitchen with tea, coffee & fruit in the communal area


For those interested in more creature comforts, then the deluxe canopy cabins may be for you.

Of solid wooden construction, with ample, screened glass windows, the canopy cabins offer maximum protection from the elements, while still offering a close connection to the sights and sounds of the forest.

Larger than the rainforest huts, these cabins are stylishly appointed with polished wooden floors, handmade natural timber furniture and spectacular glass-walled bathrooms looking out high in the trees.

With a studio-style lounge and bedroom and a private, furnished verandah, the canopy cabins offer superior accommodation in an entirely natural environment.

Single / Twin / Double
Tea & Coffee Facilities
Mini Bar / Fridge
Lights / Fans
Powerpoints
Ensuite with glass walled shower
Linen & Towels


single occupancy $1390
double or twin share $1210pp
single occupancy $1540
double or twin share $1270pp
single occupancy $1870
double or twin share $1495pp



Sample Day

The purpose-built yoga room is nestled in tranquil & lush tropical rainforest. With its polished timber floors, exposed beams and high ceilings combine to provide a wonderful space for yoga asanas, pranayama and meditation to the natural rhythm of the forest. Yoga equipment is provided.
| | |
| --- | --- |
| 6.30am | guided class |
| 8.15am | breakfast |
| 10am | on 2 or 3 of the mornings Swami Madhuram will lead workshops |
| 11.30am | yoga nidra |
| 12.30pm | lunch |
| free time | free time |
| 4.30pm | guided class |
| 6.30pm | dinner |
| 8pm | satsang & meditation |
All levels of yoga experience are welcome. Anyone not familiar with Yoga in Daily Life is also welcome. You are invited to take the retreat at your own pace doing as much or little as you need to find your own balance and wellbeing.
Check in - is from 2pm.
We'll meet at the yoga room at 4pm for a welcome circle followed by a gentle warm up class.
During the week there are opportunities for walking, swimming, a day trip to the reef & massage.
On Friday morning the last official program will be breakfast.
Check out - is by 10am.
You are welcome to arrive earlier or stay longer. Please contact Sanctuary Retreat directly to make these arrangements.
A few extra things to consider ...
While Sanctuary offers a luxurious natural environment, some traditional resort services are not standard here, i.e. there are no porters to transport guest's luggage.
Sanctuary is in a totally natural environment you will come into contact with a variety of wildlife, including insects. Sanctuary is not a place for arachnophobes.
Sanctuary and the accommodation are set high on a ridge on a 50 acre rainforest nature reserve. Because of the hilly and steep terrain makes it important for you to consider your fitness level before booking in. A 4WD transfer is provided to carry guests and luggage on arrival and departure, though during their stay guests walk a ten minute forest trail from the beach and car park to Sanctuary and its accommodation. There are also steps at the entrance to many huts and cabins. Children under the age of 11 years old will not be accommodated. *Additional 4WD transfers can be organised at extra cost.
You can learn more from the FAQs on the Sanctuary website
REGISTER
by emailing the answers to these questions to melbourne@yogaindailylife.org
* Name
* Male / Female
* Email Address
* Mobile Phone Number
* City / Suburb / Town and State of Residence
* What is your level of yoga experience?
* Do you have any food allergies or intolerances?
* Have you done a class or retreat with Yoga in Daily Life before? If yes, where & when?
* Do you have a medical condition that we should know about, such as high or low blood pressure, diabetes, depression, arthritis, sore back, neck, knees, any recent accident or operation etc ? This information will be kept confidential and will assist the retreat organisers and teachers to adapt the classes.
* How did you hear about this retreat?
* Do you wish to book the shuttle bus from Cairns domestic airport to the venue & back? If yes, please also give your flight details.
PAYMENT:
$300 deposit is required to reserve your place.
Full payment is due by 25 July 2018
EFT:
to Yoga in Daily Life Victoria CBA Bank BSB 063165 ACC 10410772 with reference of YOUR NAME and QR (it stands for Queensland Retreat). Please also let us know the date you made the transfer.
Credit Card:
Phone 03 9427 0977 to pay with a Mastercard or VISA.
By registering you have agreed to the t's & c's (see below).
Once we have received everything we will send you a receipt and confirmation letter that includes other relevant information, what to pack and contact numbers.
TERMS AND CONDITIONS - please read carefully -

PAYMENT
Yoga in Daily Life cannot guarantee or reserve a place until payment is received.
CANCELLATION
Cancellations made before 25 July a refund will be given minus a $100 administration fee. Cancellations after this time there will be no refund or transfer.
DISCLAIMER
We provide a nurturing and safe environment and our program is thoughtfully planned, but no responsibility will be taken for any injuries incurred during the retreat. Medical history forms are to be completed before the retreat, however we also advise you to consult your doctor if you have any pre-existing medical conditions.
It is essential that retreat participants retain full responsibility for their own physical and general well-being in applying instructions in the guided programs to their own circumstances, and to any other programs including the free time period. Yoga in Daily Life will not accept liability for any injury or loss suffered by retreat participants in their practice, or any other time or activity.
I understand that I participate in this yoga retreat at my own risk and accept full responsibility for any loss or injury suffered.
The venue: the description of the premises is given in good faith; no responsibility for misinterpretation will be accepted.
If you have any questions please phone 03 9427 0977 or email melbourne@yogaindailylife.org