Thank you for your interest in our New Year Yoga Retreat at Otford Valley NSW.
Due to its popularity, this is the 7th year we've been offering the New Year Retreat as people seek a relaxing, healthy, natural holiday style leading up to and celebrating this special occasion.
See some photos from previous New Year retreats
2014 > here
&
2015 > here
for some images to match with the words following...
* UPDATE -
YES, some places are available. Read on for the details & how to book in.
To ask any questions or book in contact Purnima t: 0411285461 email:
adelaide@yogaindailylife.org
Recharge, Relax and Rejoice
This New Year Yoga Retreat is designed specifically for this auspicious time of year giving the space to let go of the old and embrace the new. It offers an opportunity for you to reconnect with body, mind and spirit and reignite your inner spark. A balanced combination of yoga, meditation, pranayama, yoga nidra (deep relaxation), delicious vegetarian meals and more within the beautiful surrounds of the Royal National Park and the pristine South Coast beaches. Altogether it is the perfect way to start the New Year and bring back that feeling of health, happiness and clarity.
The system of Yoga we teach is called
Yoga in Daily Life
which was developed by
Paramhans Swami Maheshwarananda
(Vishwaguruji), an authentic Yoga Master who hails from a long linage of great Indian Masters. While completely true to the authentic tradition of classical Yoga, it is designed to meet the needs of our modern times. It is a holistic system of health, encompassing the science of body, mind, consciousness and soul.
THE RETREAT VENUE
: is
Govinda Valley Retreat Centre
. 1.10 hours drive south of Sydney CBD.
The venue has a large, light filled hall for practicing yoga (see photo), a large dining room and expansive gardens, and close to bush walking tracks, the beach and recreation areas.
You can expect cleanliness, spaciousness, grand views, clean coastal waters and privacy.
The Food: All meals are wholesome, delicious, abundant vegetarian fare. Prepared fresh daily and based on Ayurvedic nutrition.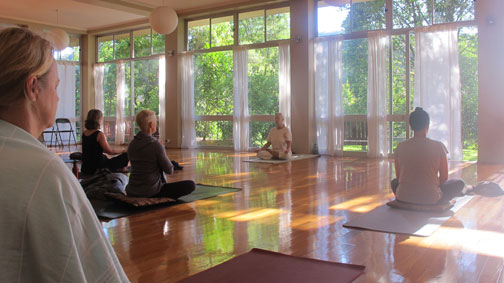 ACCOMMODATION:
There are 3 options -
1.
this option is
FULLY BOOKED a limited number of twin share rooms with ensuites. They are a similar to hotel rooms only more homely and with windows that look out onto the garden. You can have it to yourself or share with 1 person. Linen & towels are provided.
2.
lovely share rooms for up to 4 people. Comfy single beds, each with its own bedside table and lamp. The door walks you out to the garden and lawn area. The rooms are close to the share bathrooms. See photo below. Linen is provided but you need to bring your own towel.
3.
Camping. BYO Tent, bedding etc. The perfect budget option and also great if you'd prefer your own room. There are expansive well kept grounds around the buildings for this & you'll be close to the local wildlife such as the deer. See photo.
The shared rooms and campers use the same bathrooms that are cleaned daily.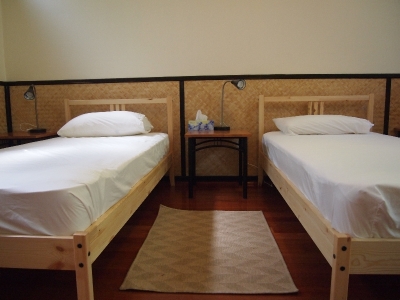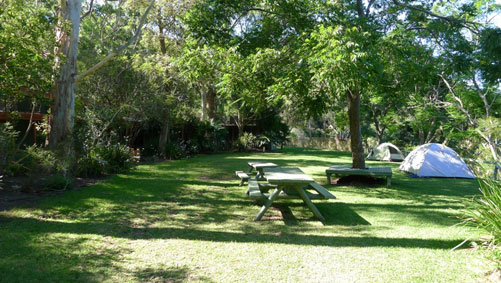 SAMPLE PROGRAM
all included in the cost
** Please note you need to bring your own yoga mat.
6 - 8am general yoga & meditation practice
8 - 9am breakfast
9.30am nature time
12.30pm lunch
free time
3 - 4pm yoga nidra
4.15pm gentle restorative yoga class & pranayama
6pm dinner
7.30 - 8.30pm evening program and guided meditation
Also included is: time by yourself, time with others and periods of silence. Bush walks, ocean swims & New Years Eve bonfire and ritual.
Extras
not included in the cost.
* A massage service may be offered by the venue. 1 hour $80. 1.5hours $110
* A waterfall adventure! We'll car pool & each car will need to pay the approx $11 entry fee into the Royal National Park.
DATE:
Wednesday 28 December 2016 to Monday 2 January 2017.
Registration is Wednesday between 2 - 3pm. At 3pm there will be a quick welcome then following into the afternoon program.
The retreat closes with lunch on Monday.
COST:
fully booked - Ensuite Room to yourself (limited number available) $1860
fully booked - Twin room with ensuite (limited number available) $1415 per person
Shared room $1115 per person
Camping (BYO tent etc) $890 per person
INCLUDES all yoga programs, all meals and accommodation
DISCOUNTS:
Been to one of our retreats before? $100 off for returning
GETTING THERE:
You can drive or get a train on the South Coast line and get off at Otford station. We will pick you up from there. Coming from interstate? Its easy to connect from Sydney airport to the train.
I N T E R E S T E D ?

Here is how to book in ...
If you have any questions please contact Purnima t: 0411285461 email: adelaide@yogaindailylife.org


REGISTER
by emailing the answers to these questions to
adelaide@yogaindailylife.org
Name
Male / Female
Email Address
Mobile Phone Number
City / Town and State of Residence
What is your level of yoga experience?
Do you have any food allergies or intolerances? What are they?
Have you done a class or retreat with Yoga in Daily Life before? If yes, where & when?
Do you have a medical condition that we should know about, such as high or low blood pressure, diabetes, depression, arthritis, sore back, neck, knees, any recent accident or operation etc ? This information will be kept confidential and will assist the retreat organisers and teachers to adapt the classes.
How did you hear about this retreat?
PAYMENT:
Full payment is requested with the booking.
EFT:
to Yoga in Daily Life Australia ANZ Bank BSB 014245 ACC 397931929 with reference of YOUR NAME and NYR. Please also let us know the date you made the transfer.
CREDIT CARD
payments can be made through
Eventbrite > here
. Please note credit card & processing fees apply.
By registering you have agreed to the t's & c's (see below).
Once we have received everything we will send you a receipt and confirmation letter that includes detailed directions how to get to the venue, a list of what to pack and emergency contact numbers.
TERMS AND CONDITIONS - please read carefully -
PAYMENT
Yoga in Daily Life cannot guarantee a place until full payment is received. The $300 deposit is nonrefundable or transferable.

CANCELLATION
Cancellations made before 14 December a refund will be given minus the $300 deposit. Cancellations after this time there will be no refund or transfer.
Alcohol, tobacco, recreational drugs and non vegetarian food stuffs are not to be consumed or brought to the retreat venue.
DISCLAIMER
We provide a nurturing and safe environment and our program is thoughtfully planned, but no responsibility will be taken for any injuries incurred during the retreat. Medical history forms are to be completed before the retreat, however we also advise you to consult your doctor if you have any pre-existing medical conditions.
It is essential that retreat participants retain full responsibility for their own physical and general well-being in applying instructions in the guided programs to their own circumstances, and to any other programs including the free time period. Yoga in Daily Life will not accept liability for any injury or loss suffered by retreat participants in their practice, or any other time or activity.
I understand that I participate in this yoga retreat at my own risk and accept full responsibility for any loss or injury suffered.
The venue: the description of the premises is given in good faith; no responsibility for misinterpretation will be accepted.
If you have any
questions
please contact Purnima t: 0411285461 email: adelaide@yogaindailylife.org
or Gita t: 03 9427 0977 email: melbourne@yogaindailylife.org