MEDITATION: Introduction 4 week Course
next one starts 9 October, Tuesdays 7.45 - 8.45pm for 4 weeks $50 Bookings are essential
Experience the power of mindfulness. Learn the foundations of meditation to get you started on the right track.
There are many reasons why you may want to learn meditation; for peace of mind, better health, spiritual fulfilment and more. Whatever that reason is, the answers you seek come when the mind is still and quiet.


Based on level 1 of the Yoga in Daily Life Self Enquiry Meditation system in this course you will learn / experience:
- effective support practices that will help you to relax, be comfortable and still
- basic meditation / concentration techniques
- understanding of what is meditation and the function of the mind
- stages of meditation
- simple home practice
- opportunity for questions
Bookings essential. Payment is requested with booking.
HOW TO BOOK IN: scroll down for the details & options or contact us melbourne@yogaindailylife.org 9427 0977
---
---



BEGINNERS YOGA & Meditation Course
The next one starts Thursday 25 October, 6 - 7.30pm

Increase your strength & flexibility, tone your body, relax your mind, cultivate inner peace and balance.
The course offers an introduction to level 1 of the Yoga in Daily Life System, giving you a variety of basic yoga techniques and an understanding of the many benefits that regular yoga practice can to body and mind.

This course provides a framework of a developing, progressive practice & can be successfully followed up by attending the Level 1 or Level 2 classes so you may continue to learn at your own pace and receive the benefits of your Yoga practice.


A practical course that offers you the A - Z basic foundations of a wholistic yoga practice. You will learn:
◊ Easy yoga exercises to stretch and strengthen your body
◊ Relaxation techniques to de-stress your body & mind
◊ Breathing practices to balance the nervous system
◊ Basic meditation for peace of mind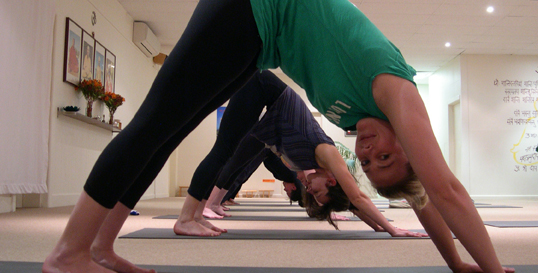 COST: $150 full $120 conc.
* Early Bird Discount $120 full $96 conc.
COST INCLUDES: The course and 1 extra class from the class timetable per week = total 12 classes.
It works like this:
You attend the Tuesday session for a consecutive 6 weeks. These course sessions run like practical mini workshops. Plus you are invited to attend one level 1 or 2 regular class from our timetable each week to aid in integrating what you have learnt in the course.
So the course session + a regular class each week = 12 sessions over 6 weeks. It's very good value!
---